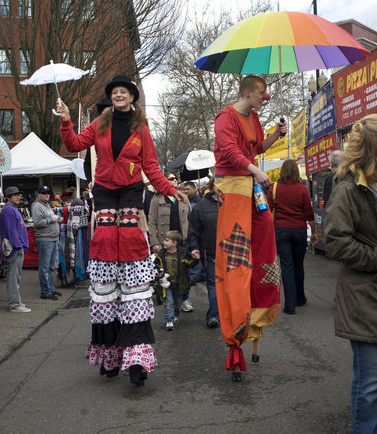 Seeing stilt walkers tall and costumed makes everyone happy.  People look up in amazement, with smiles on their faces, asking for high fives or photos all of the time, and they often exclaim ?Wow, I wish I could do that.  How did you learn??
Believe it or not, pretty much everyone can learn to stilt walk, you just need some stilts and someone to teach you how.
Stilt walking has become a popular skill in summer camps, boy/girl scouts, after school movement classes, circus and gymnastics programs all over the world.
Stilt walking is great for co-ordination, cognitive and physical development, balance, confidence, self-esteem, strength, and trust building, and is an extremely interactive activity.
Learning to stilt walk in a safe environment with an instructor who can effectively teach you how to protect your body, and to walk, fall, and get back up again is essential.
Learning how to be as safe as possible allows for beginners to obtain a level of confidence, understanding, and to overcome their fear, and in the end they are way more successful at learning the skill.
Kricket from PegStilts.com offers group workshops and classes at Portland area schools, she offers private lessons in SE Portland, and also manufactures Peg Stilts and sells them all over the USA.
Stilt walking is generally recommended for people over age 8.
PegStilts.com also has a NEW Refer-A-Friend Program:  Earn a FREE pair of stilts by telling your students and friends about us!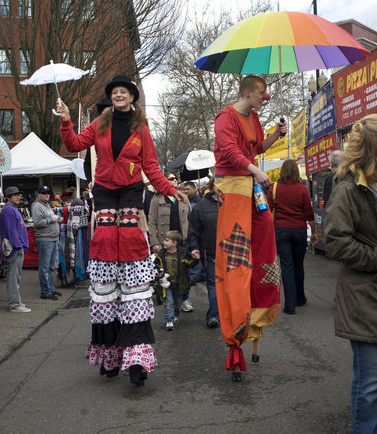 WebSite:  http://www.pegstilts.com
PegStilts.com – Peg Stilts, Puppets, and more!
Portland, OR