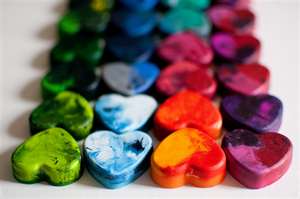 We've been watching these little cuties pop up all over crafting blogs for the past few months and have been secretly fawning over them, collecting broken crayons and counting down the days with our kiddos. With Valentine's Day right around the corner, and a strict no-sugar policy at school we thought this would be the perfect Valentine's Day gift to give our beloved pals.
MATERIALS:
Crayon pieces
Heart-shaped silicon heart tray (we got ours at Ikea)
Little helpers for peeling paper off crayons
Glitter – optional
Toothpick – for swirling melted crayons – optional
NOTE: Peeling the paper off broken crayons is the longest part of this craft and a little tricky for the younger set. We purchased a new box of crayons (much easier to peel) for the kiddos to peel, while the parents worked on the broken pieces. Also, if you're interested in brighter colors for Valentine's Day, remove the darker crayons from this batch and save for another project.
INSTRUCTIONS:
1.     Pre-Heat the oven to 250°.
2.     Take paper off crayons and break into little pieces
3.     Fill each mold with crayon pieces and bake until the crayons melt, about 10 – 12 minutes. Some of the crayons may look a little lumpy, but they'll continue to melt when the pan is out of the oven.
4.     Let the crayons cool. This usually takes about 45 minutes. If you're pressed for time, place in the freezer for a few minutes or until the crayons set.
5.     Once they're cool, remove the hearts from the molds and VOILA, you have a mini Valentine's Day heart.
DECORATING IDEAS and LINKS:
1. Tape crayon to a downloadable template.
2. Attach to homemade card.