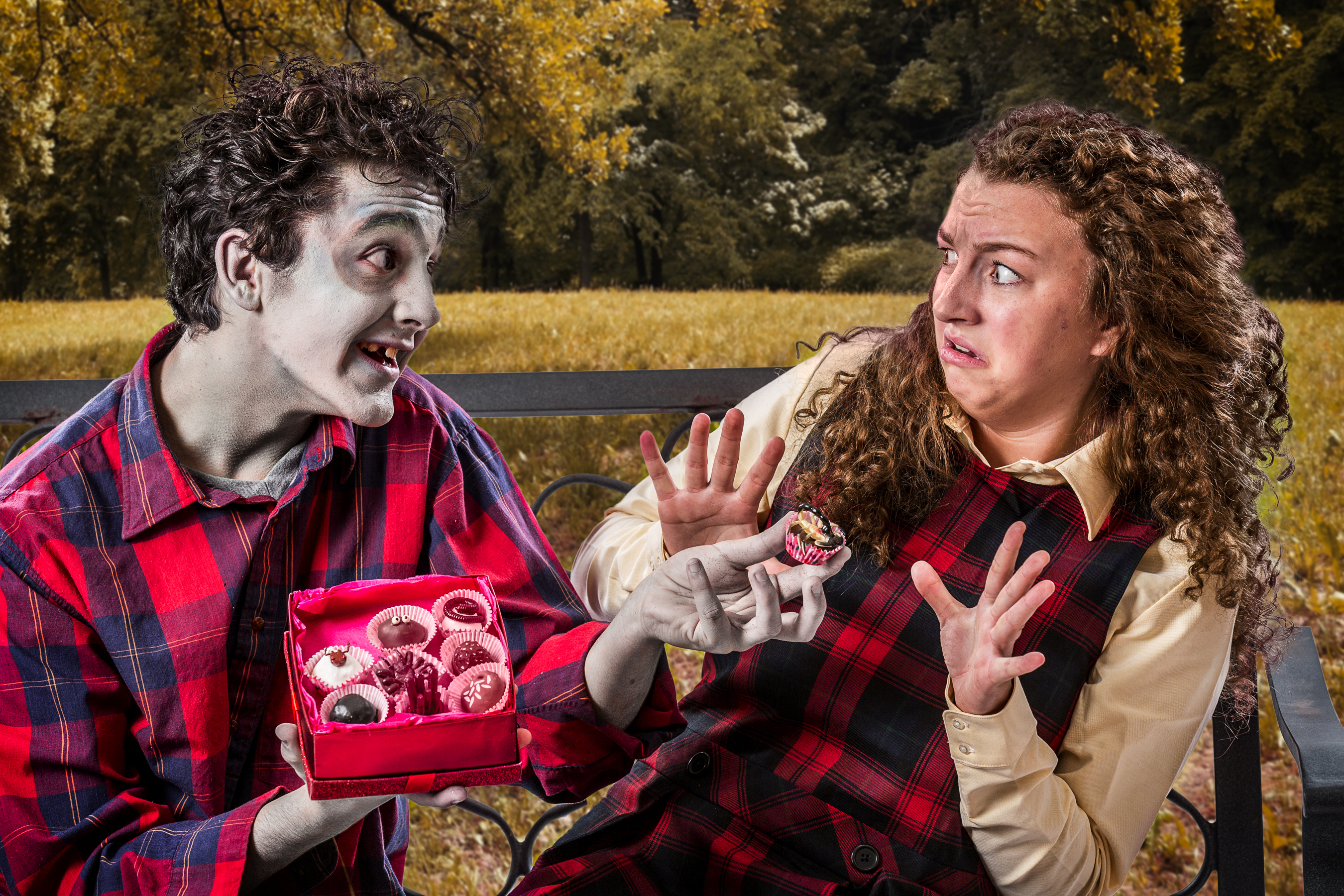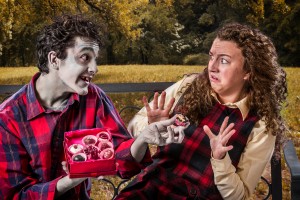 Oregon Children's Theatre's world premiere of Zombie in Love will totally eat your brain…er…worm its way into your heart. The tale, adapted from the charming picture book of the same name, is the ultimate undead underdog story. Mortimer navigates adolescence and high school with his unique lack of coordination, awkward voice, body malfunctions, and an earnest desire to belong. Despite exclusions, he vulnerably seeks a special someone to call his own.
The Winningstad Theatre provides an up close and personal venue in which to get to know the talented, young cast of nine. Infested with musical numbers composed of witty zombie lyrics, catchy melodies, and some killer dance moves, this production truly entertains. Adults and children alike can share in the big laughs and tender moments. I won't lie; I got misty at several points. As my daughter squeezed my hand, I could tell that I wasn't alone.
Blake Peebles totally embodies Mortimer on the stage; moving his body in ways that nobody with a pulse should attempt without the supervision of a chiropractor. Every expression on his face and sound that leaves his mouth (ironically) breathes so much life into the character that you can easily forget that zombies aren't real. Madison Wray portrays an equally lonely, though more recently sans-pulse, student named Mildred. She brings real spunk and a clear, sweet voice to a girl whose name nobody can seem to remember since she went and died. To watch them both seeking acceptance and companionship in their parallel lives is painful for anyone who has ever felt like an outsider. But if you've read the story (spoiler alert), you know it's just a matter of time before their worlds will literally collide.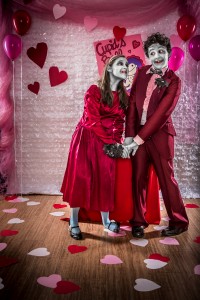 The kids and I were already in love with the book. Then, in addition to the privilege of watching the first show, we were able to meet and chat with the incredibly charming and humble author, Kelly DiPucchio, and sit in for an audience Q&A with her, Artistic Director Stan Foote, Director Marcella Crowson, Playwright and Lyricist Michelle Elliott, and Composer Danny Larsen. Not only were they all delightful, but they were clearly enamored of this project: the story and everyone involved in the production. That's a lot of heart and soul for a musical whose main characters technically have neither.
What you need to know: Zombie in Love is recommended for ages 4 and up (Mortimer's introduction is briefly spooky). There are several show times Saturdays and Sundays now through March 23, 2014. Sign interpreting by Don Coates is available on March 8 at 2pm. The book's talented illustrator, Scott Campbell, and several other local artists will join the happenings at the Winningstad on Saturday, March 8. Check out pages 20 and 21 of the program; there are fun activities and information especially for kids that reiterate Zombie's lessons on the importance of feelings, friendship, and self-acceptance. For more information, including ticket sales and appearances, please visit octc.org.