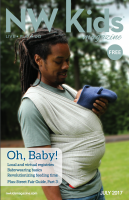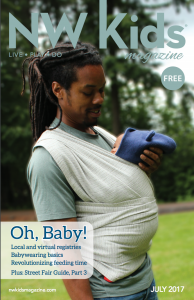 Summer's in full swing! Ready for endless outdoor adventures in the lushness that only the Pacific Northwest can offer? With Independence Day around the corner (if you haven't seen fireworks on the Oregon Coast, make this year the first; I promise it's worth it) and the total solar eclipse on August 21, and all sorts of shenanigans in between, you won't be hearing the dreaded refrain of "I'm bored!" anytime soon.
In these pages is our trusty jam-packed event list, as well as the final installment of our 3-part Street Fair Guide so you can load up your social calendar. Got a tiny one right now, or waiting for them to arrive soon (or later)? They – and you – don't have to miss out on the fun. Experts from Seahorses and Babywearing International help you pick out the best baby carrier for every mobility need on p. 21.
We also love discovering new local, innovative takes on baby staples and sharing them with you! The latest finds are clever and functionally designed feeding tools and a onesie with absolutely no snaps, buttons or zippers… simply amazing. Start learning more on p. 17 – we think you'll like what you see.
Catch you in August!
Karel