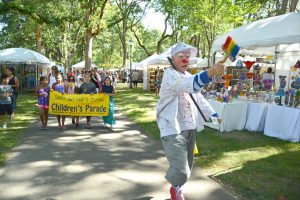 While our 30+day stretch of dry weather is nowhere near record-setting (71 rain-free days in a row in 1967?!), it sure is making for endless chances to get out and enjoy the dog days of summer! Here are some events to consider:
All Weekend
68th Annual Salem Art Fair & Festival
Kicking off the 68th Annual Salem Art Fair & Festival on Friday, July 21 is the Children's Parade. This is a colorfully-costumed, one-mile stroll led by Buster the Clown and friends. Hundreds of children and parents, plus mascots, bands, and community volunteers participate each year. To join in the fun, meet at the corner of Leffelle Street SE and High Street SE at 9 am. The parade departs at 9:30 am and ends in the Santiam Hospital Kids' Court, where there are art activities and free entertainment. $5 for adults, children 12 and under free. salemart.org
Jul 21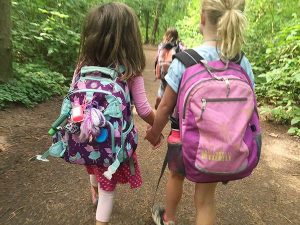 Story & Stroll at Tryon Creek
The theme of the week is Camp Out! This program integrates nature exploration, art, literature, movement, and outdoor play. It is geared toward families with young children (preferably ages 2-6) but all are welcome. Space is on a first come, first served basis; register in the Nature Center 30 minutes before the program starts. Free. 11am-12:15pm. tryonfriends.org
Kid's Dig!
This popular program introduces kids aged 8-12 to the fascinating world of archaeology! In this program, kids excavate a site with trowels, screen dirt, measure and map their finds, and discover the historical secrets that lie below our feet! Kids also learn about the importance of protecting archaeological sites for future generations. Kids work with park staff, volunteers, and students from the Public Archaeology Field School. Free with admission to Fort Vancouver. 10:30am and 2pm. nps.gov
Jul 22
Division/Clinton Street Fair & Parade
Sunday, fun day! There will be vendors and fun from 10am-5pm and the parade begins at 10:45! The party on Clinton will kick off at 3pm and continue until 10! Free. divisionclinton.com
World Refugee Day
This is a fun, family-friendly community event full of music and dance, food, kids activities, a job fair seeking refugee workers, and a marketplace of arts and wares made by refugees and recent immigrants! Free. Delta Park, 12-4pm. facebook.com