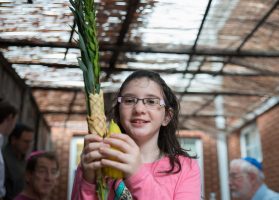 Sukkot ("sue-coat"), celebrated from Wednesday, October 4 until Wednesday, October 11 in 2017,  is the third and final Jewish festival commemorating the exodus from Egypt. Passover celebrates the escape of Israel from Egypt, Shavuot recalls entering into a covenant with God at Mount Sinai, and sleeping in a "sukkah" or temporary hut while wandering in the wilderness is remembered in the holiday of Sukkot (the plural form of sukkah). At the end of Sukkot is Simchat Torah. Simchat Torah, or "Joy of the Torah," is the last of the fall holidays and it marks the completion of the year long cycle of weekly Torah readings.
Photo: Flickr user Fort George G Meade Public Affairs, Photo by Steve Ellmore, used under a Creative Commons license
Here in Portland, Sukkot is celebrated at home and with events at temples and community centers across the city. Typically, the sukkah is decorated with hanging fruits and vegetables, real or paper maché, to commemorate the abundant harvest, beautiful scenes of Israel and signs with Bible quotations. Friends and family are invited to visit and tell stories in the sukkah. Join in the fun of building and decorating a sukkot with your little ones!
Let's Create the Sukkah and Sukkot Decorating Party & Waffle Brunch
Date: October 1, 2017
Time: 11:30-1 pm
Cost: Free
Location: Congregation Shaarie Torah,
920 NW 25th Avenue, Portland, OR 97210, in the parking lot and social hall
Website: http://shaarietorah.org/hhd5778/
Brotherhood Sukkah Raising
Date: October 1, 2017
Time: 10 am
Cost: Free
Location: Congregation Beth Israel, 1972 NW Flanders Street
Portland, Oregon 97209
Website: http://www.bethisrael-pdx.org/calendar/high-holidays-2017#camp
Community Sukkah Building
Date: October 1, 2017
Time: 10:00 am
Cost: Free, please bring your own decorations to hang in the sukkah
Location: Mittleman Jewish Community Center,
6651 SW Capitol Highway, Portland, OR 97219, outside in the courtyard
Website: https://www.oregonjcc.org/arts-culture/arts-culture-events
Sukkot Pizza in the Hut
Date: October 4, 2017
Time: 6 pm
Cost: Free
Location: Congregation Beth Israel, 1972 NW Flanders Street
Portland, Oregon 97209
Website: http://www.bethisrael-pdx.org/calendar/high-holidays-2017#camp
Sukkot Lunch & Learn
Date: October 5, 2017
Time: 12 pm
Cost: Free
Location: Congregation Beth Israel, 1972 NW Flanders Street
Portland, Oregon 97209
Website: http://www.bethisrael-pdx.org/calendar/high-holidays-2017#camp
Story Telling in the Sukkah with Maggidah (professional storyteller) Cassandra Sagan
Date: October 7, 2017
Time: 11:30 am
Cost: Free
Location: Congregation Shaarie Torah,
920 NW 25th Avenue, Portland, OR 97210, in the sukkah
Website: http://shaarietorah.org/hhd5778/
Soup & S'mores in the Sukkah
Date: October 8, 2017
Time: 4 pm-6 pm
Cost: Free, please RSVP online
Location: Congregation Shaarie Torah,
920 NW 25th Avenue, Portland, OR 97210, in the sukkah
Website: http://shaarietorah.org/hhd5778/
Pizza in the Sukkah and Story Hour
Date: October 9th, 2017
Time: 5:00 pm- 6:30 pm
Cost: $15 per family, please register online by Oct 4
Location: Mittleman Jewish Community Center,
6651 SW Capitol Highway, Portland, OR 97219, outside in the courtyard
Website: https://www.oregonjcc.org/arts-culture/arts-culture-events/sukkah