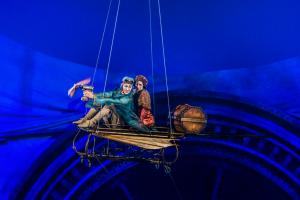 In an alternate yet familiar past, in a place where wonders abound for those who trust their imagination, a Seeker discovers that in order to glimpse the marvels that lie just below the surface, we must first learn to close our eyes.
In his larger-than-life curio cabinet, the Seeker is convinced that there exists a hidden, invisible world – a place where the craziest ideas and the grandest dreams lie waiting. A collection of otherworldly characters suddenly steps into his makeshift mechanical world. When the outlandish, benevolent characters turn his world upside down with a touch of poetry and humor in an attempt to ignite the Seeker's imagination, his curios jump to life one by one before his very eyes.
What if by engaging our imagination and opening our minds we could unlock the door to a world of wonders?
Photo: Martin Girard / shootstudio.ca Costumes: Philippe Guillotel © 2014 Cirque du Soleil
As soon as they were available to purchase, I ordered tickets to attend this past Sunday's Portland performance of Canadian entertainment group Cirque du Soleil's "Kurios – Cabinet of Curiosities" with my two kids (ages 6 and 11). My youngest had never seen a Cirque du Soleil performance and my eldest was a toddler when we saw the 2008 production of  "Corteo" and only remembered small bits. Having had the good fortune to attend several of Cirque du Soleil's previous productions, I already knew that "Kurios" was going to be magnificent and I was so excited to share this with my kids. My 6-year-old son is a bit sensitive to loud noise and anything that feels overly intense and I did have some concerns about whether or not the theme, the music or the costumes would feel overwhelming to him, but I had heard glowing reviews from friends who had attended with children of all ages and with varying degrees of sensitivity. In advance of leaving for the show, I tried to explain a bit about how this is a circus of sorts, but not the type with animals. I considered showing my kids some of the videos online of the performance, but I didn't want to ruin the element of surprise and wonder for them (or for myself!) so we went in with very little information about the show.
Photos: Martin Girard / shootstudio.ca Costumes: Philippe Guillotel © 2014 Cirque du Soleil
As we were driving to the Expo Center on Sunday my son asked, "Is this going to be like American Ninja Warriors?" While I had no idea what that was, I said with at least hope and a good deal of certainty, "No." My kids were getting a bit fidgety before the performance, but as the final guests took their seats they were both soon in stitches as they watched several of the performers make their way through the crowd, having fun with the audience members on their way. Once the show began, and for the duration, we were all positively transfixed. While I would like to tell you all of the parts that my kids thought were the coolest and all of the parts that made me say, "WHAT? HOW?!", I think it is best to let you go in as we did, with just a basic idea of the concept and having seen a few photos. On the way home my kids both almost fell asleep (a small miracle in and of itself) and while I wanted to ask them questions about what they saw and what they thought about it, I decided to leave them alone with the quiet and the sense of awe and wonder that we all left with. With all that is happening in the world right now, it was a welcome and much needed afternoon's relief from reality.
The show's duration is about 130 minutes, including a 25 minute intermission and food and drinks are available for purchase on site (and can be brought into the tent). Outside food and beverages are not permitted, but you may bring an empty water bottle and fill up from their bottled water dispensers which are located at several of the doors to the venue. Kurios runs through October 8th under the Big Top at Portland Expo Center and tickets can be purchased here. You can pay for parking at the site (it was the most seamless exit I have ever had from a family event in Portland!) or you can take the Max directly to the Expo Center.
BUT WAIT! We have a special savings link for you AND a giveaway! If you follow this link and purchase a Family Pack (3 or more tickets), you will automatically save 25% at checkout!
Would you like to enter to win two free tickets to the 9/21 performance? ENTER HERE!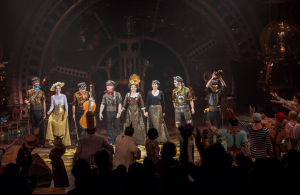 Photo: Martin Girard / shootstudio.ca Costumes: Philippe Guillotel © 2014 Cirque du Soleil