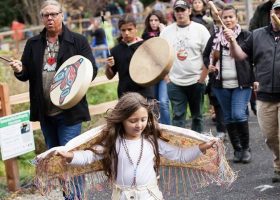 In the blink of an eye, we have gone from full-fledged summer to snow at Timberline and digging the rain boots out of the closet. How will you spend the first weekend of fall 2017?
Sep 22
Vaux's Swift Watch at Chapman Elementary
Every evening through September you can join your neighbors and watch the Vaux's Swifts prepare to roost for the night. If you haven't been, this is the very best time. It is a spectacular "show" and will captivate viewers of all ages. Chapman Elementary School, 6-8pm. Free, nwkidsmagazine/events
Sep 23
Smithsonian Magazine Museum Day Live
Free admission for two to museums throughout North America? What could be better?! With Oregon alone having 18 museums participating, you are sure to find something that strikes your family's curiosity! Throughout Oregon, all day. Free, nwkidsmagazine.com/events
Sep 24
2017 Salmon Celebration at Westmoreland Park
The return of the salmon is such an important part of the season in the Pacific Northwest and is worth a celebration! The Salmon Celebration at Westmoreland Park is an annual community gathering to welcome the return of salmon to the city of Portland, Oregon. Each fall people come together along the banks of Crystal Springs Creek to celebrate the renewal of salmon runs in the last undammed, unpiped salmon-bearing watershed in the city.
Sponsored by the Crystal Springs Partnership​.
Each year, booths staffed by members of educational and conservation nonprofit groups, government agencies, Native American tribes and others present opportunities to learn, have fun, and participate in bringing vitality and community involvement to the watershed. Westmoreland Park, 11am-4pm. Free, nwkidsmagazine.com/events