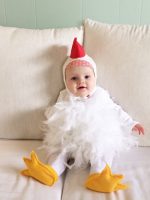 Dressing up your little for Halloween can be loads of fun – for both kids and parents! Whether you're looking for something spooky, silly or sweet, shopping for costumes at your local children's resale stores can save money and allow you to be more creative than shopping at a big box store.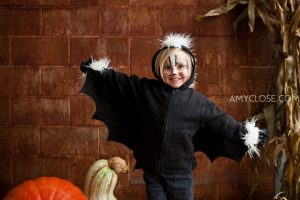 As an infant or toddler "costumer," start by considering what your trick o' treat plans look like. Will you be carrying your kiddos, pushing a stroller, or will they be walking? Bulky costumes can be difficult to fit into a stroller or parents' arms. If your kids are older and ready to run door-to-door on their own, their costume should be easy to move in. Portland Octobers are often chilly and rainy, so you'll want to choose items that work with layers. You can find a variety of undergarments at resale shops from long-sleeve shirts to tights to keep little ones warm.
Also, consider safety: choose items that keep kids visible and that allow them to see, and avoid garments that might cause them to trip.
Once you and your child have picked a theme, creature or idea that fits your plans, it's time to head to your local resale shop. You'll find everything from basic clothing pieces to fun embellishments and jewelry. Be open to some variations in color or style; shopping resale will allow you to build fun, unique costumes. Here are some examples of creative outfits you can build through resale shopping:
Lion: Look for either a one-piece furry lion costume, or for mustard, brown or khaki pants and a hooded sweatshirt or fleece jacket. Head to your nearest fabric store for faux fur to add around the neck, edge of the sleeves, cuffs of the pants and a longer piece for the tail. Brown and yellow felt can be attached with a glue gun to the hood of the jacket for ears. Finish with face paint or crayons to draw on a nose and whiskers.     
Zebra: Choose an all-white or all-black outfit with pants and a sweatshirt. You can use the opposite color in fabric paint or duct tape to create the stripes. Using faux fur from the fabric store to add on a mane, tail and fur around the cuffs. You can use black and white felt for the ears.
Pirate: Cut off a pair of navy or black pants just below the knee in a jagged, torn look. Choose a white, or red-, white- or blue- striped -button-up shirt or blouse, and cut the sleeves to quarter length (or, if short, trim the edges or rip off the sleeves for a frayed look). Choose larger sizes in the shirt and pants to add a baggy, unkempt air. Add a colorful scarf for a belt and a red bandana for a neckerchief or head scarf. Embellish with clip-on earrings or even jewel stickers on the ears. Use black eyeliner for a lovely mustache. A small stuffed parrot taped to the shoulder is a fun addition. Argh, matey!