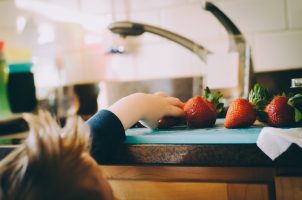 With the autumn chill in the air and leaves beginning to fall, it's the perfect time of year to focus on cozy family time in the kitchen. Making food is a daily opportunity to bond with your kiddos and incorporate learning. There's breakfast to be made, lunches to pack for school and family dinners. One of the most important skills we can teach our kids is the art of cooking, including how to be health conscious and focus on locally sourced ingredients. We are lucky to live in a city like Portland, which has abundant farmers' markets, health food stores, community gardens and culinary workshops!  
Making meals together is not only a great learning opportunity, it's also a chance to build fond memories. Here are a few tips for making cooking together fun.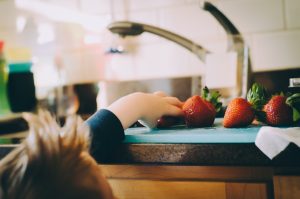 Keep it simple and seasonal
Depending on their age, kids can help out at dinner time in a variety of ways; a few simple ingredients can make a fantastic dish! Kids of all ages love to chop (using the wavy chopper for younger kids) stir, mash, sift and measure.
Look through recipe books, talk about what foods are in season, and explain what that means. These discussions can go beyond dinner time, and help kids understand where their food comes from and why supporting local providers is good for the environment. Have your child pick an in-season ingredient he or she is interested in, and build your meal around that. It can be as simple as a quesadilla with fresh tomatoes. Simple, seasonal ingredients make it easy to eat healthfully, and cooking as a family makes kids more interested in trying new, healthful foods.
Keep it local
Supporting our local farmers is good for our economy and environment.  Discuss the various shopping options and visit each to see how they're different. Kids will love exploring! In Portland, fall is potato, squash, kale, apple and pear season. This is a great time to make butternut squash soup and apple pie. Visit Portland Nursery for apple tasting day, and check out your neighborhood farmers' market for the freshest options.  
Keep learning new things
We are blessed with many kid-friendly culinary classes in the Portland area. These classes are a great family outing, and can teach you recipes to try at home.
Turnip the Heat

is a local cooking school for youngsters. Owner Joanna Sooper has amazing articles and recipes on her website, and offers monthly classes, birthday parties and even special holiday workshops like pie-making in November.  

Northwest Nourish

has "kids in the kitchen" fall cooking classes.   

The Merry Kitchen

is in a cute, little remodeled house in the Cully neighborhood. Owner Julie teaches after-school cooking classes, baking classes, sushi-rolling and lots of other creative workshops for kids.

You can also check with your nearest Whole Foods location; they often offer cooking courses and workshops.
Don a colorful, fun kitchen apron
Local seamstress Susan Stearns from Rain Baby Gear makes and sells lovely handmade aprons. These aprons are easy to clean, and kids love cooking in them.