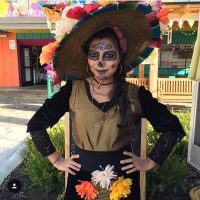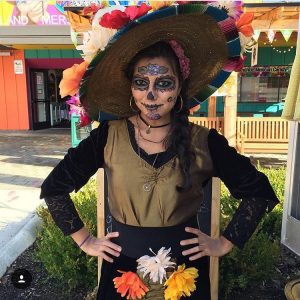 On most days, a graveyard probably isn't your idea of a premium picnic spot. And you probably wouldn't consider picnicking at night to the light of candles and the sound of a mariachi band. But on Dia de los Muertos, or Day of the Dead, a candlelit graveyard is the perfect place to be.
Dia de los Muertos is an important cultural holiday in Mexico (and in some places in the United States) for remembering and honoring dead ancestors and relatives. It takes place every November 1 and 2 and has been celebrated for over 2000 years. Mesoamerican civilizations all shared a common belief in life after death: when people died, they didn't cease to exist. Their soul continued to live in the afterlife. This belief caused the ancients to celebrate death rather than fear it.
Today, Dia de los Muertos is a day to let relatives know they are not forgotten. One of the ways the living show their love for their deceased family is to create ofrendas either at the grave of their relative, or in their home. And yes, many people even celebrate by having a nighttime picnic in the graveyard.
Ofrendas (offerings placed on an altar) generally include candles, incense, salt and water (for the dead who might be thirsty on their journey), and some favorite items of the dead person like clothing, food, or toys. Decorated sugar skulls, often with the name of the dead person written somewhere on it, are also common items included in the ofrenda. Bright orange marigolds are thought to attract spirits to their ofrendas and are used liberally in decorating.
Many Dia de los Muertos celebrations include a procession through the streets. Rather than watching from the sidelines, like you would a parade, everyone is encouraged to join in. Some people bring photos of their deceased family member to carry along the procession. This is where you might see people dressed up in sugar skull make-up and Catrina costumes.
Catrina is a character based on "La Calavera Catrina," a 1910 etching by Mexican printmaker Jose Guadalupe Posada that depicts a skeleton in a fancy, flowered hat. While the symbol started off as a mockery of native Mexicans who were abandoning their culture in favor of European traditions, Catrina is now a popular icon during Dia de los Muertos.
Filled with joyous sights, sounds and food, Dia de los Muertos is a time to feel connected to ancestors who have passed on, and to celebrate the family bond that lasts beyond this life.
There are many ways to celebrate Dia de Los Muertos in Portland, whether you join a procession or decorate at home. Here are a few ideas:
Enjoy a concert at Holocene with a Dia de Los Muertos procession leaving from Sunnyside and working its way to the venue. Dressing up is encouraged. The event is all ages from 8 to 9pm, and then it becomes a 21 and over party. http://www.holocene.org/event/1552743-dia-de-los-muertos-portland/
Make tissue paper marigolds to decorate your home or altar. A great craft to do with kids. https://tinkerlab.com/simple-paper-marigolds-dia-de-los-muertos/
Kids love to help bake bread. Let them knead and shape loaves of delicious pan de muerto. http://stephiecooks.com/2011/10/30/pan-de-muertos-day-of-the-dead-bread/
Paint some rocks into festive sugar skulls to keep around the house all year long. https://colormadehappy.com/2017/09/sugar-skull-rocks-using-puffy-paint/
Learn from a local makeup artist and face painter how to make yourself or your friends into a beautiful sugar skull at a the Gregory Heights, Sellwood/Moreland, or Hollywood library.  https://multcolib.org/events/sugar-skull-face-painting-workshop
Afton Nelson is a Portland writer and mother of three boys who has many ancestors worth celebrating and remembering. Learn more about her at www.aftonnelson.com.
*Photo from Portland Mercado's Facebook page