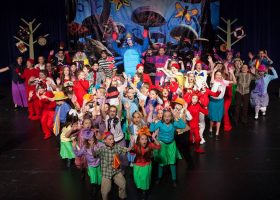 With the rain expected to continue throughout the weekend, my family is looking forward to some indoor fun! So far we've planned opening day of Judy Moody & Stink: The Mad, Mad, Mad, Mad Treasure Hunt at Oregon Children's Theatre on Saturday and then a fun baking class (sugar skull piñata cookies!) at Collective Kitchen on Sunday, but here are some other ideas we have:
Oct 20
Glow Skate at Oaks Park
Glow skate is everybody's favorite! The 3rd Friday of the month, during the Open Skate Session Oaks Park is turning down the lights and turning up the fun! Score a free glow stick with paid admission, plus they light up the skating floor with our party lights all night long! Oaks Park, 7-10:30pm. $8/person, nwkidsmagazine.com/events
Oct 21
Hillsboro Airport Air Fair 2017
Come out and explore one of Oregon's busiest airports: take a tour of the airfield, try your hand at flying into Hillsboro Airport on a simulator, see aircraft up close, and more! Hillsboro Airport Air Fair has something for everyone (and classic comfort food from Retrolicious)! Hillsboro Airport, 11am-3pm.  Free, nwkidsmagazine.com/events
Oct 22
Alice in Wonderland Jr with Journey Theatre Arts Group
Travel down the rabbit hole and join Alice, one of literature's most beloved heroines, in her madcap adventures. Featuring updated songs from Disney's thrilling animated motion picture, Disney's Alice in Wonderland Jr. is a fast-paced take on the classic tale.
The ever-curious Alice's journey begins innocently enough as she chases the White Rabbit. Her adventures become increasingly more strange as she races the Dodo Bird, gets tied up with Tweedle Dee and Tweedle Dum, raps with a bubble-blowing Caterpillar and beats the Queen of Hearts at her own game! Ridgefield High School, 2pm (playing through Oct 29). $11-$25, nwkidsmagazine.com/events