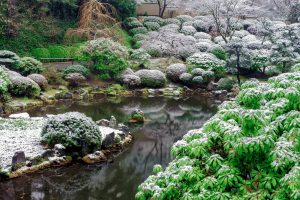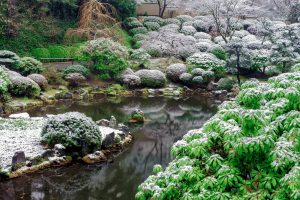 The Pacific Northwest is a beautiful place to enjoy winter as a family. Kids love being outside in nature. Rain, snow or shine, it's great to get outside everyday for fresh air, puddle jumping and hunting for nature's treasures. In the city of Portland, we are lucky to live among particularly beautiful examples of what nature has to offer. A winter-time walk around your block or to your neighborhood park marveling at the beauty of mosses, trees, busy squirrels and winter birds is the perfect opportunity to teach the importance of respecting nature and caring for our environment year-round. Kids of all ages can learn about how creatures hunt for food and build shelters this time of year, and how we can help support them. It's important to continuously share the beauty and abundance of nature with our children, to ensure that they grow up conscious of the foot prints they leave behind. Here are some ideas for enjoying our environment together during the chilly months, including a few local places to check out.
Build a fairy house and learn about winter plants: Building a fairy house with your kids is a fun way to use the treasures we see and find, from sticks, bark and mosses to rocks and seed pods. Kids can build little homes at the base of a tree and learn about the items they're using at the same time. It's also fun to see if others will add to it. On a rainy day, paint a few rocks or some small sticks to look like flowers, mushrooms or bugs and use them to decorate these fairy houses.
Take advantage of Portland's many parks: There are so many lovely parks in the neighborhoods of Portland. Visiting a new-to-your-family park can be a special adventure. Join a friend and their littles for a walk in Lower McClay Park to the stone house, take a drive to see Multnomah Falls, or have fun at Westmoreland Park. Head to Washington Park to visit the Arboretum or spend a day at the Zoo; many animals love the winter weather and will be out enjoying it as well. You can also check out the beautiful Japanese Garden.
Prep for Spring gardening: If you've always wanted to garden with your children but don't have space at your home, sign up for a garden plot in a community garden. It's a first come first serve basis and gardens are assigned starting in February. Once signed up, your family can use the remaining winter months to plan what you'd like to plant.
Explore urban nature: Even downtown Portland offers opportunities to explore nature in the winter! Go for a walk across the Tilikum Crossing to see the river, watch the boats, and look for what animals are near the banks of the river this time of year. Or, enjoy a ride up the tram to view the trees, mountains, and other surrounding sights from the best vantage point in the city.