Color Me Cover Contest 2017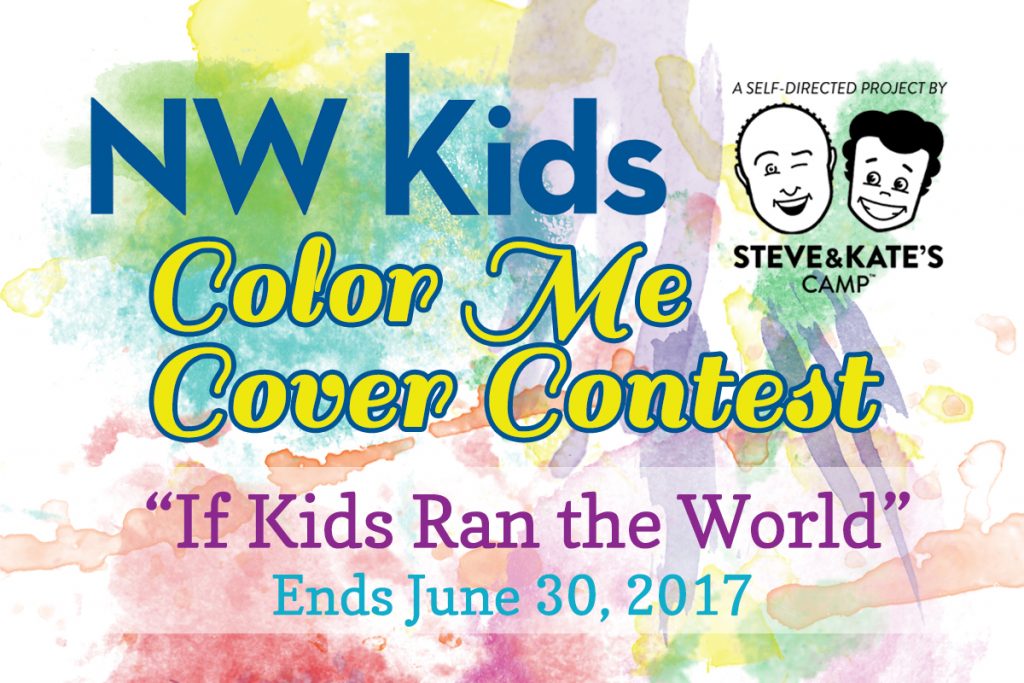 Back by popular demand! The
NW Kids Color Me Cover Contest

is a call to kids age 3-12 to unleash and express their creativity, identity and originality through art – however they wish to define it!

What: A contest to submit art for consideration as the cover of NW Kids August 2017
When: June 1-30, 2017
How: Kids create artwork using the theme "If Kids Ran the World" and submit either via email or postal mail
Who: Portland area kids age 3-12, with age categories 3-6 years, 7-9 years and 10-12 years old
Details:
1. Download and print entry form here, or after June 19 pick up a hard copy from Steve and Kate's Camp at All Saints School, 601 NE Cesar E Chavez Blvd, Portland
2. Three ways to enter:
Scan and email entries to contest [at] nwkidsmagazine.com
Mail via USPS to NW Kids Magazine, PO Box 91563, Portland, OR 97291
Submit in person to Steve and Kate's Camp at All Saints School, 601 NE Cesar E Chavez Blvd, Portland from June 19-30!
Prizes:
Grand Prize: Your artwork on the cover of the August 2017 issue of NW Kids + 1 week (5 days) of Steve and Kate's Camp for summer 2017
Runners Up (1 in each age group): Your artwork featured in the August 2017 issue of NW Kids + 1 day of Steve and Kate's Camp and hat or water bottle
About Steve and Kate's Camp:
THE CAMP THAT LETS KIDS BE KIDS
Steve & Kate's is a summer day camp founded on the belief that when you trust kids, they learn to trust themselves, and develop the creative confidence to unleash their true potential.
So for 37 years, they've let kids choose their own adventure through a range of activities, including film, fashion, breadmaking, stop-motion animation, coding, music, dance, sports, and the occasional pie-throwing.
Steve & Kate's Camp offers a safe, judgment-free environment where kids can be themselves, explore their passions, and develop true self-confidence.
BUILT FOR BUSY PARENTS
Steve and Kate's offers a uniquely flexible camp model that parents love. You can purchase day passes or full summer memberships, good for any day at any location. You don't even need to tell them that you're coming – just show up and we'll be ready for you.
And because they know that you're busy and schedules change, they automatically refund all unused days by mid-September. Boom.
EXTENDED HOURS, FREE OF CHARGE
Steve and Kate's Camp offers industry-leading hours with no extra charge. They're open from 7:30am until 6pm, and you can drop off or pick up at any time in that window.
A WORLD OF ENDLESS CHOICE FOR KIDS
Steve and Kate's Camp is a self-directed summer camp, meaning that kids get to choose the activities they love. To make that work, they offer the widest range of activities of any summer day camp, including five immersive creative studios (film, fashion design, coding, breadmaking and music) and a ton of other fun activities, like sports, dance, building, card games, game shows, occasional pie-throwing and a range of rotating "epic" specials like go-karts, slide-and-slide water castles, Zorbs and much more.
Open 7:30am-6pm every day. Ages 4-12. Lunch is included, and delicious.
Good luck to all!